ROXY Athletes Honored
The Ohana Gala presented by the Surfing Heritage and Culture Center will be honoring four Women who have helped change the world of surfing.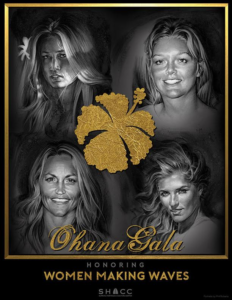 Two of those women are ROXY athletes, Lisa Andersen and Stephanie Gilmore. They will be given the 'Making Waves' Award for having established themselves within the sport of surfing through their athletic pursuits, cultural contributions or distinguished themselves via their actions, performances, pioneering spirit and dedication to the sport, culture, business, and lifestyle of surfing.
Lisa Andersen – Four-time World champion and the pioneer behind the creation of the first women's boardshorts, Andersen made being a female surfer mainstream.
Stephanie Gilmore – Six-time World champion and three-time Triple Crown champion. Tall, strong, and gifted with equal parts strength and fluidity, Gilmore has inspired another generation of women to embrace strength as femininity.
"I am so Honored to be presented this award alongside my heroes, and I am looking forward to a fun evening with family and friends." – Lisa Andersen
Innovating for women is at the heart of what ROXY does. For over 25 years, ROXY has created products and cultivated female pioneers that changed the course of boardriding and in doing so, empowered women to always challenge the status quo. ROXY aims to remind women to experience the immense freedom found in reconnecting with the world's natural surroundings. ROXY is on a mission to inspire women to find this freedom in their own way, so that, they too, can Make Waves and Move Mountains.
For more information, please visit www.roxy.com.
ABOUT ROXY
ROXY is a way of life. ROXY is a community. ROXY is a passion for uniting and broadening vast groups of women who share common, core values. Ever-inspired by the Mountain and the Wave, we create products that strike the balance between style, performance & femininity. Since 1990, we have cultivated female pioneers, and will honor those women by continuing to defy the status quo.