SIMA's "The Float Collective" Returns
SIMA (Surf Industry Manufacturers Association) is proud to announce the return of the Float Collective campaign, a surf industry initiative to give back to those in need. Centered around the signature blue bracelet and a unique collection of products from member brands, the proceeds of the Float Collective will benefit 11 different humanitarian organizations that use surfing to help those in need.  The collection of products and a special Float Collective bracelet will be on sale through various specialty retailers with exciting collection drops happening throughout the year.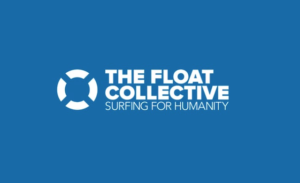 After a successful inaugural launch, 10 SIMA member brands will return to the collective, offering a variety of limited-edition products including hats, watches, boardshorts, tees, surf fins, and more, all to benefit the SIMA Humanitarian Fund, the humanitarian charitable arm of SIMA. The SIMA Humanitarian fund supports surf-related humanitarian causes through an annual grant program that has given back more than $1.7 million to date. The sophomore year collection will again feature the symbolic blue color-way and notable hang tags, clearly identifying the association with the Float Collective. Participating brands include Captain Fin,Corkcicle, Creatures of Leisure, Electric, Nixon, Quiksilver, Raw Elements, Rip Curl, and Reef.
The Float Collective bracelet, made from leash string material and featuring the Float Collective's life preserver logo as a metal charm, are available at premier specialty retailers. Retailers will showcase and sell Float Collective bracelets to generate significant funds for the partner humanitarian organizations. Participating retailers include Aqua East Surf Shop, BC Surf & Sport, Brave New World, Breakwater Surf Co, Curl Surf, Farias Surf & Sport, Hansen Surfboards, Heritage Surf & Sport, Huntington Surf & Sport, Island Water Sports, Jack's Surfboards, Maui Nix, Ron Jon Surf Shop, South Coast Surf Shop, Spyder Surf, Sun Diego Board Shop, Surf Ride, Val Surf and more.
"I'm really proud to see our industry unite again to help give back to those in need," said Dylan Slater, president of the SIMA Humanitarian Fund. "Between the strength of the brands participating and the caliber of retailers who have partnered with us on this initiative, I'm confident the second year of The Float Collective will be a big success, ultimately benefiting some amazing organizations doing very important work."
As in the inaugural campaign, a collection of professional surfers, influencers and musicians have signed on to amplify The Float Collective's message. These ambassadors include Kala Alexander, Connor Coffin, Michael Dunphy, Sage Erickson, Dylan Graves, Taylor Knox, Reef McIntosh, Miguel Pupo and Switchfoot
Launching early June 2018, the second edition of Float Collective products will be sold throughout the year with a 5% royalty from each product sale, as well as proceeds from the Float Collective bracelets sales, donated back to the SIMA Humanitarian Fund. In December 2018, the SIMA Humanitarian Fund will write grants to the humanitarian organizations selected by the Board of Directors earlier this year. Grant recipients were selected based on a variety of criteria, but each organization uses surfing in some way to improve the quality of life, health or welfare of people around the world.
The Float Collective will support the following organizations via a 2018 SIMA Humanitarian Fund grant:
AccesSurf
Best Day Foundation
Amazing Surf Adventures
Life Rolls On
Surfers Healing
Mauli Ola Foundation
Outdoor Outreach
Stoked Mentoring
Boys to Men Mentoring
John Wayne Cancer Foundation
Jimmy Miller Foundation
For information on Float Collective brands or where to purchase the Float Collective bracelet, please visit www.simafloatcollective.com.
About SIMA
The Surf Industry Manufacturers Association (SIMA) is the official working trade association of more than 300 surf industry suppliers. Founded in 1989, SIMA is a non-profit organization that serves to promote awareness of the surf industry and participation in the sport of surfing through public relations efforts and a variety of services, educational programs and research. In addition, SIMA actively supports oceanic environmental efforts through its 501(c)(3) charitable environmental foundation, the SIMA Environmental Fund. In the past 28 years, SIMA's Environmental Fund has raised more than $7 million for environmental groups seeking to protect the world's oceans, beaches and waves. The SIMA Humanitarian Fund, also a 501(c)(3) charitable foundation, was established to award grants to various surf or boardsport related social and humanitarian non-profit organizations whose efforts are focused on improving the quality of life, health and/or welfare of people. Since 2004 the SIMA Humanitarian Fund has raised and donated more than $1.7 million to surf-related non-profit humanitarian organizations. For more information regarding SIMA, please visit www.sima.com.