Last Chance to Win Booth and More at Agenda Las Vegas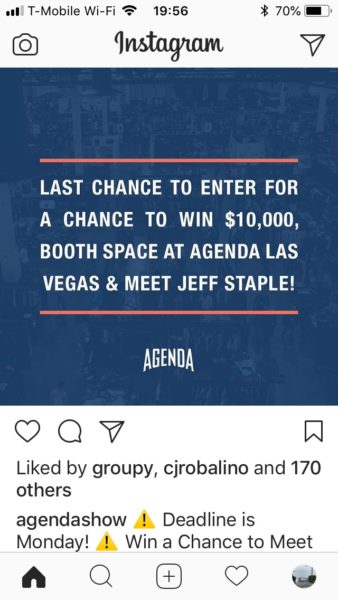 The deadline is Monday to enter to win a chance to meet Jeff Staple, up to $10,000 and to get your brand discovered at the Agenda Show in Las Vegas!
Join acclaimed designer Jeff Staple for a free 3-week workshop on skillshare on designing and launching your fashion brand.
You'll take Jeff's Skillshare classes and follow a curated curriculum and learn the skills you need to create a shirt, a headwear piece and creative packaging that represents your brand.
Once you submit your products, our panel of judges will select three finalists who will receive:
Up to $10,000 to help launch your brand
Booth space to display your brand and get discovered at the Agenda Show in Las Vegas (Aug 13-15)
Roundtrip airfare and hotel accommodations
Click to enter and get your brand discovered now!