Sam Hawk To Enter 2019 Surfers' Hall of Fame
Sam Hawk, a standout power surfer in the 1970s, is the first announced inductee to the 2019 Surfers' Hall of Fame.  Born in 1950 in South Gate, Hawk first started surfing at age fourteen in Huntington Beach.  As one of the renowned Hawk surfing clan that includes Tom and their late brother Chris, Sam helped shape the local surf culture in the 1960s and '70s.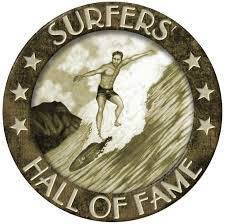 Sam Hawk moved to the North Shore of Oahu, Hawaii in 1967 and by 1971 had firmly established himself as the most advanced regular footer surfer at the Banzai Pipeline as well as a key pacesetter at both Sunset Beach and Rocky Point.
Well known for riding massive waves with complete and startling abandon, Sam finished fourth at the 1972 Pipeline Masters contest and placed third in the 1974 Duke Kahanamoku Invitational Surfing Championship.
An apprentice of master surfboard shaper Dick Brewer in the early 1970's, Hawk went on to become a highly regarded board maker in his own right; initially making boards for the Brewer label before eventually branching out with his own business.  Sam continued to surf throughout the decades and was Cheyne Horan's tow-in partner during the enormous Biggest Wednesday swell that hit Hawaii's North Shore in January, 1998.
"Sam Hawk is a huge legend of our surfing world," said Surfers' Hall of Fame founder Aaron Pai.  "Back in the day Sam was one of the best surfers here and in the big surf of Hawaii, and he's been a master shaper since the '70s.  We are super stoked to be able to thank Sam for all his contributions and achievements to our sport of surfing."
The Surfers' Hall of Fame induction ceremony pays tribute to those individuals who have made an indelible mark on the sport, industry and culture of surfing.  The nation's first imprint collection of legendary surfers, the Surfers' Hall of Fame celebrated its first induction in 1997 inside of specialty retailer Huntington Surf & Sport where several slabs remain.  Four years later the ceremony moved outside to the corner of PCH and Main.  The 2019 induction ceremony is scheduled for Friday, August 2nd at 9am.
Further information is available at https://hsssurf.com/shof/.