ROTH Capital Partners Acts as Joint Book-Running Manager for New Age Beverages Corp.
Transaction Information
New Age Beverages Corporation (NASDAQ: NBEV), the Colorado-based organic, natural and healthy functional beverage company focused on becoming the world's leading healthy beverage company, has closed an underwritten public offering of 14,835,000 shares of New Age's common stock, and includes 1,935,000 additional shares pursuant to the full exercise of the over-allotment option. The shares were sold at the public offering price of $3.50 per share, resulting in the gross proceeds for New Age Beverages Corporation of approximately $52 Million. New Age Beverages Corporation intends to use the proceeds from this offering for working capital and potential acquisitions.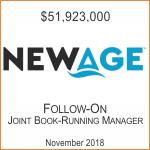 ROTH Capital Partners acted has joint book-running manager for the offering.
About New Age Beverages Corporation
New Age Beverages Corporation is a Colorado-based healthy functional beverage company that was created in 2016 and 2017 with the combination of Búcha Live Kombucha®, XingTea®, Coco-Libre®, and Marley®, to create a one-stop-shop solution for retailers and distributors providing healthier beverages in the disruptive growth segments of the $1 trillion-dollar non-alcoholic beverage industry. In that period, New Age has grown into one of the top 60 largest beverage companies in the world, one of the largest healthy beverage companies, and the fastest growing in the world over the past two years. New Age competes in Ready to Drink (RTD) Tea, RTD Coffee, Kombucha, Energy Drinks, Relaxation Drinks, Coconut Waters, Functional Waters, and Rehydration Beverages with the brands Búcha Live Kombucha, Xing, Marley,Coco-Libre, Aspen Pure, and enhanced. The Company's brands are sold across all 50 states within the US and in more than 15 countries internationally across all channels via direct and store door distribution systems.
New Age has exclusively partnered with the world's 5th largest water charity, WATERisLIFE, to end the world water crisis with the most innovative technologies available. Donate at WATERisLIFE.com to help us #EnditToday. (Source: Company Press Release | 11/9/18)
About ROTH Capital Partners
ROTH Capital Partners, LLC (ROTH), is a relationship-driven investment bank focused on serving emerging growth companies and their investors. As a full-service investment bank, ROTH provides capital raising, M&A advisory, analytical research, trading, market-making services and corporate access. Headquartered in Newport Beach, CA, ROTH is privately-held and employee owned, and maintains offices throughout the U.S. For more information on ROTH, please visit www.roth.com.
For more information please contact:
Investment Banking
Paul Zaffaroni
Managing Director &
Head of Consumer
Investment Banking
(949) 720-7174
pzaffaroni@roth.com
Jonathan Alyn
Director
(949) 720-7156
jalyn@roth.com
Equity Capital Markets
Aaron Gurewitz
Head of Equity
Capital Markets
(949) 720-5703
agurewitz@roth.com
Nazan Akdeniz
Senior Vice President
(949) 720-5740
nakdeniz@roth.com
Lou Ellis
Senior Vice President
(949) 720-5739
lellis@roth.com