Industry Vet Derek Sabori Teaching Apparel Industry Sustainability Practices
Industry veteran Derek Sabori is teaching Apparel Industry Sustainability courses at Orange Coast College in Costa Mesa, California.
FASH 190 (APPAREL INDUSTRY SUSTAINABILITY: THE ENVIRONMENT, ETHICAL BUSINESS PRACTICES & THE LAW) is an introduction to, and overview of, responsible business, also known as triple bottom line business, with a focus on environmental sustainability, responsible decision making, social impact, corporate social responsibility, regulatory compliance, certifications, and other emerging technologies in the fashion/apparel space.
This class is foundational learning that will help prepare students for the future courses which are very specific today's most relevant topics in sustainable fashion. Before we can dive too deep, however, it's imperative that students have an understanding of the basics: sustainable development, ecology, biodiversity, circular economy, LEED, zero waste, social impact, certification, recycling vs upcycling, climate change, supply chain steps & associated impacts and more…
By the time students are done with this course, they'll be both hungry and ready to dive into real world industry issues like roadmap to zero discharge (ZDHC), the Higg Index, Content Claims Standards, dry-dyeing techniques, bluesign, Fair Trade, and more.
FASH 191 (SUSTAINABILITY & RESPONSIBILITY IN FASHION DESIGN, MANUFACTURING AND BRANDING) take things a step further. This course, which dives into the environmental and social impacts the apparel manufacturing industry has had in the past and continues to have today, is a real-time exploration. This class will explore the impacts associated with the process of developing and manufacturing apparel from fiber sourcing to warehousing, and sales to distribution. We'll study up on topics that are featured regularly in the news (specifically ECOTEXTILE News, thanks to a subscription partnership).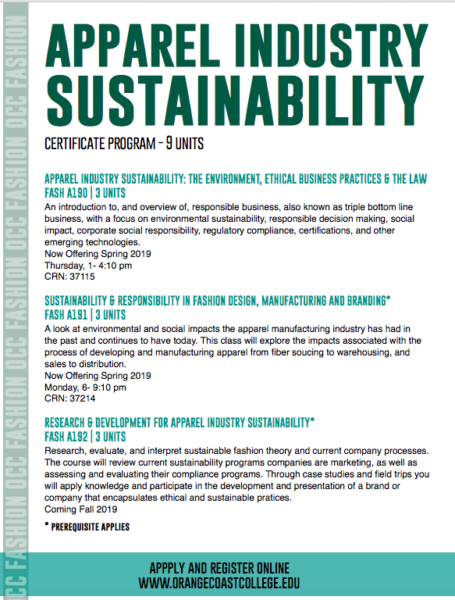 These two courses are currently available (FASH 191 requires that you take FASH 190 first) and are open for registration at www.orangecoastcollege.edu.
Available in the near future will be the third and final course in the series: FASH 192 (RESEARCH & DEVELOPMENT FOR APPAREL INDUSTRY SUSTAINABILITY).
This course will be a research-based class where students will have the opportunity to dive deep into the commitments and initiatives of brands in the space. Students will research, evaluate, and interpret sustainable fashion theory and current company processes and will also review current sustainability programs companies are marketing. They'll assess and evaluate their compliance programs and deem for themselves, the real depth of their marketed commitments.
Through case studies and field trips students will apply their knowledge and participate in the development and presentation of a mock (or intended to be real) brand or company that encapsulates ethical and sustainable practices.
About Derek Sabori
After launching a career at Volcom in 1996, Derek held many diverse roles at the company before finally serving 5 years as the Vice President of Sustainability under the leadership of the CEO and the Sustainability Team at Kering, Volcom's parent company.
Mid-career, Derek received his MBA from the Paul Merage School of Business at UC Irvine and then pursued a goal of sharing his vision of a healthy & sustainable future for his two children by carving out a professional niche in Sustainability and by self-publishing a children's Eco- Action Adventure picture book.
After 19 years with Volcom, Derek left the company to play a co-founding role at KOZM, the yoga centered, sustainability driven lifestyle brand.
Additionally, Derek is the founder at The Underswell, crafting sustainability talks and advice to help navigate the complexities of sustainability in our modern lifestyles and to better integrate sustainability into our business and lives.
Derek has recently served as a director on the boards of the Costa Mesa Foundation, the Orange Coast College Foundation, and PangeaSeed, an NGO dedicated to shark and ocean conservation, and the UC Irvine Alumni Association. Derek is also a part time sustainability instructor and career workshop project coordinator at Orange Coast College in Costa Mesa, CA.
Derek helped develop the A/PART student x industry workshop series, and recently shared an idea at TEDxUCIrvine.
Living, working and playing in Costa Mesa, CA Derek can be followed at @derekasbori, @theunderswell and www.theunderswell.com. Full bio at linkedin.com/dereksabori.