Surfers' Hall of Fame Welcomes Janice Aragon
Janice Aragon, winner of the ISA World Surfing Games and NSSA Nationals, the first woman to judge a world professional tour event and current executive director of the NSSA is among the legendary surfers being inducted into the 2019 Surfers' Hall of Fame.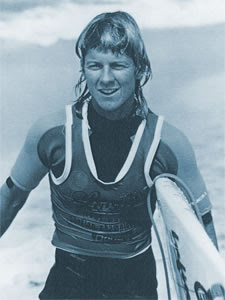 Aragon joins Sam Hawk, a standout power surfer in the 1970s and part of the renowned Hawk surfing clan that includes Tom and their late brother Chris, as this year's inductees. Janice and Sam will have their hand and footprints immortalized in cement for the ages on Friday, August 2ND at 9:00 a.m. in front of Huntington Surf & Sport.
"Janice Aragon is a true surfing champion and surfing legend that has impacted our sport and generations of surfers in a huge, positive way," said Surfers' Hall of Fame founder Aaron Pai. "We are honored to induct Janice into the Surfers' Hall of Fame."
Janice Aragon was born in 1955 in Fresno, California, and raised in Downey. She began surfing at age 16. A relative late bloomer to competitive surfing, Janice entered and won her first surfing contest in 1983 at age 29.
Aragon was the mother of a two year-old daughter and an unheralded competitive surfer when she won the 1984 ISA World Championships in her hometown of Huntington Beach, helping lead the U.S. to a team victory. Aragon had a second child in 1985, and the following year won the National Scholastic Surfing Association, or NSSA, Nationals, one of amateur surfing's most prestigious events.
Janice Aragon was hired as an NSSA competition judge in 1986, and the following year she broke new ground, becoming the first woman to judge a professional world tour event, working the Op Pro Surfing Championship in Huntington Beach.
Blazing more trails in the growing sport, Janice was hired as the NSSA's executive director in 1989. Aragon sent ripples into American amateur surfing when she splintered the NSSA away from the United States Surfing Federation in 1993, forcing surfers to choose competing in the better organized and talent-superior NSSA or working toward a U.S. world team slot through the USSF.
The NSSA grew and prospered under Aragon's leadership in the mid- and late 1990s. Under her watch, the National Scholastic Surfing Association has helped thousands of youngsters thrive as amateur surfers, hosting contests around the nation to find the best up-and-coming surfers.
Founded in 1978, the NSSA was formed with the goal to change the image of surfing into that of a competitive sport for aspiring athletes. Surfers were required to stay in school and get passing grades. Tens of thousands of young surfers have since gone through the NSSA ranks, later going on to myriad  professions including doctors, lawyers and heads of surfing brands.
The list of surfers who graduated from the NSSA to move onto the World Champion Tour is long. Eleven-time world champion Kelly Slater came up through the NSSA ranks, as did three-time champion Andy Irons and Kalani Robb. Carissa Moore, Melanie Bartels and Bethany Hamilton are among the many notable women.
The NSSA recently celebrated its 40-year anniversary; with Aragon at the helm the majority of that time.
The Surfers' Hall of Fame induction ceremony pays tribute to those individuals who have made an indelible mark on the sport, industry and culture of surfing.
Tens of thousands of visitors travel to Huntington Beach's downtown area and literally walk in the footsteps of surfing superstars and legends from several eras including Laird Hamilton, Andy Irons, Jack O'Neill, Robert August, Bob Hurley, Sean Collins, Kelly Slater, Lisa Andersen, Gerry Lopez, George Downing, Shane Dorian, Greg Noll, Corky Carroll, Shaun Tomson, Rob Machado, Sumo Sato, Timmy Turner, Shawn Stussy, Rabbit Kekai and many more, who are already immortalized in cement.
This year's induction ceremony features the inductees, family, friends, pro surfers and industry titans, and is open to the public, free-of-charge.  Further information is available at https://hsssurf.com/shof/ and https://jmp.sh/ZTT2c8c.