SHACC Exhibit and Party to Celebrate Surf Shops
California's local surf shops have defined and reflected surf culture for decades. These "temples of stoke" are where generations have come to learn, laugh, talk story, buy a board, wetsuit or bar of wax, and be indoctrinated into the lifestyle and culture that turns naive beginners into real, lifelong surfers.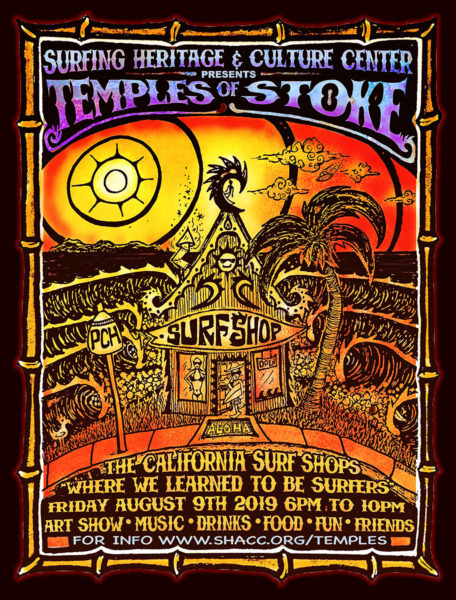 In recognition of the singular role that these shops have played in the world of surfing, the Surfing Heritage and Culture Center (www.shacc.org) is proud to announce its Summer 2019 exhibit, "Temples of Stoke"
"As surfers, our local shops are so much more than just a place to buy a surfboard or a pair of trunks" said SHACC's curator Barry Haun. "These are the places where we learn to be surfers."
The Temples of Stoke opening night party will be held on Friday, August 9, 2019, from 6-10pm at SHACC in San Clemente. Shop owners, employees and industry luminaries will all be on hand to celebrate and share their uniquely classic stories that helped make the sport and culture of surfing what it is today. The exhibit will be on display through October 6.
The organizing committee for the exhibition has invited 25 of the most iconic California surf shops to take over the SHACC exhibit space to install their "shrines:" photos, memorabilia, and artifacts that tell the story of each shop and the role it continues to play in defining the ethos and values of each uniquely different beach town along the West Coast.
As Hobie Alter famously said "A great surf shop is a social and cultural hub for surfers — a place to meet and hang out, check out boards, brag about great waves or new spots ridden, laugh about a horrendous wipeout and to wax long and in detail about trips to Hawaii."
Current list of confirmed surf shops:
Haut
O'Neill
Freeline
The Beach House
Morey Pope
Val Surf
Jacobs
ET Surfboards
Bing
Greg Noll
Weber
Rick
Dive 'n Surf
Harbour
Rockin' Fig/Chuck Dent
Jack's
The Frog House
Laguna Surf & Sport
Hobie
Donald Takayama
Encinitas Surfboards
Sunset Surfboards
Hansen's
Gordon & Smith
Tickets available at: https://templesofstoke.eventbrite.com

More information at SHACC.org.
Follow SHACC on Facebook and on Instagram @surfingheritage.