Outdoor Retailer Wraps Up Summer Market, Looks Ahead to Winter Outdoor Season
Outdoor Retailer, the largest U.S. trade show and premier business event for the outdoor industry, filled the Colorado Convention Center in Denver for another successful Summer Market. The three-day show welcomed over 23,500 attendees and more than 1,400 exhibiting brands from June 18-20, 2019, marking the launch of summer.
"The outdoor industry comes together at Outdoor Retailer – it's the place to connect face-to-face, to build relationships and share ideas, and that's just what we did at Summer Market," said Marisa Nicholson, Outdoor Retailer vice president and show director. "Throughout the week, we also had a chance to discover exciting new gear, plus celebrate those who are inspiring us, and we were proud to continue to take steps to reduce our environmental impact. Now, we are already looking forward to gathering again in November to launch the winter outdoor season at Winter Market."
The Summer Market 2019 exhibitor list included more than 250 new brands, and Venture Out – a zone dedicated to modern outdoor trends – was the largest in show history with nearly 100 exhibiting brands. The show kicked off with the Demo Experience in its new location at Chatfield State Park in Littleton, Colorado, and the first night was highlighted by the ninth annual Outdoor Retailer Inspiration Awards presented by adidas Outdoor.
"We believe in being part of the broader effort to promote the outdoor industry and be a part of it, an active and engaged part of it," said Nancy Blanchard, Director of Marketing, Fjällräven North America. "Having a presence and inviting people to come through the booth, learn about our brand, learn about our products, and make that personal connection is really, really great. Our brand is about making connections and having a two-way conversation. It's about building relationships, and [the show] is a great way to build those relationships with a lot of different audiences."
At Summer Market, Outdoor Retailer partnered with Nalgene Outdoor to provide all attendees with a custom reusable water bottle. Through the support of Centerplate, the Plastic Impact Alliance, and show partners, the sale of single-use plastic bottles at the show was eliminated and more than 170 water stations were available.
Coverage of Summer Market continues in the post-show issue of The Daily, now available at outdoorretailer.com/thedaily. The magazine features new gear, events and education sessions from the show, as well as the post-show report. All issues of The Daily are also online.
"We've come to Outdoor Retailer to look for fresh, new ideas as well as to visit with all levels of the companies we work with," said Lisa Lamberson with Mountain Sports Flagstaff. "It's pretty awesome to be able to meet founders of companies and to talk to marketing teams of our biggest partners. My role is to work the floor and have those in-depth industry conversations that you just can't have over the phone or via email."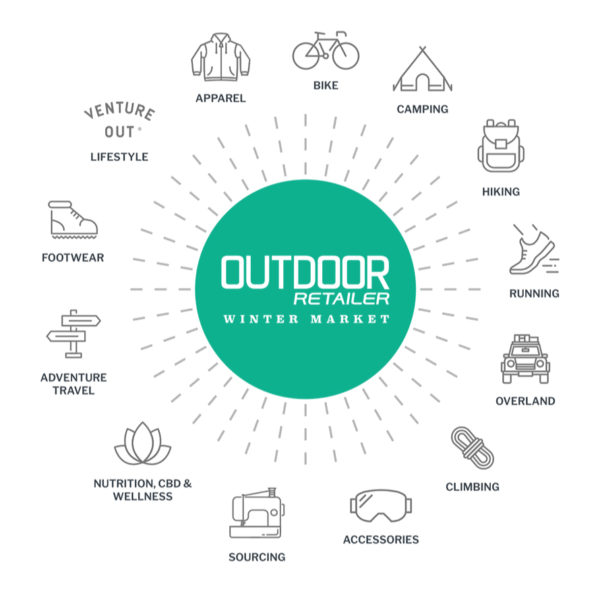 Attention now shifts to Winter Market, which runs November 5-7, 2019, back in Denver – registration for the show is open. Winter Market will launch the winter outdoor buying season, and new to the show is the bike category. Cycling brands and suppliers are joining outdoor exhibitors, retailers, bike dealers, buyers, and advocacy organizations on the show floor. The first night of the show will be highlighted by the second annual Outdoor Retailer Innovation Awards, recognizing the latest innovations in outdoor gear.
Outdoor Retailer hosts three shows annually in Denver – Summer Market in June, Winter Market in November and Snow Show in January. For information on exhibiting and sponsorship opportunities around the shows and events, contact Krista Dill, director of sales, at krista.dill@outdoorretailer.com or an Outdoor Retailer account executive.
###
About Outdoor Retailer
Outdoor Retailer, the largest U.S. tradeshow and premier business event for the outdoor industry, brings together retailers, manufacturers, industry advocates and media to conduct the business of outdoor recreation through trade shows, Outdoor Retailer Magazine, product demo events, media events and web-based business solutions. The Outdoor Retailer trade shows are the premier outdoor industry events for North America, providing platforms for critical face-to-face business initiatives, line previews, innovations, launches, networking and retailer education. Visit outdoorretailer.com for more information.
Outdoor Retailer is owned by Emerald Expositions, a leading operator of business-to-business trade shows in the United States. The company currently operates 60 trade shows, as well as numerous other face-to-face events. In 2018, Emerald's events connected over 500,000 global attendees and exhibitors and occupied nearly 7 million net square feet of exhibition space.