Waterman's August 3rd: About Waterman of the Year, Kai Lenny
30th Annual Waterman's
Saturday, August 3, 2019
The Ranch at Laguna Beach
Learn more about sponsorship and tickets.
The threat to our ocean environment around the globe has never been greater which means the surf industry is more motivated than ever to help support the 15 different ocean environment non-profits that are dedicated to keeping plastics out of the ocean, overseeing beach clean-ups, protecting surf breaks from destruction and more. In the past 30 years, Waterman's has been responsible for raising more than $8 million and we want you to be part of the fun as we close in on the $9 million mark.
We invite you to join us on August 3 for a night under the stars at The Ranch at Laguna Beach as we celebrate surfing, pay tribute to some of the most colorful people in the world and raise money and awareness for the oceans. Sign up today, you don't want to miss out on surfing's best – and most impactful – party!
Tickets, Sponsorship and VIP Packages are on sale now!
Questions? Contact Shannon Zseleczky at shannon@sima.com.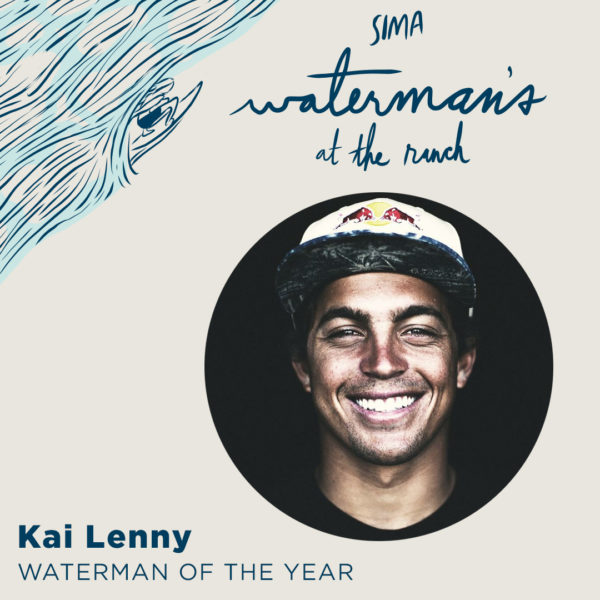 Waterman of the Year
Kai Lenny, born and raised on Maui, has been connected with the ocean from birth.  His parents, Martin and Paula, both moved to Maui before meeting each other.  Their shared love of the ocean, specifically windsurfing, led to marriage and the start of their family. Kai has a younger brother, Ridge. As a young and very close family, they spent all their free time enjoying the beach.  They encouraged Kai and Ridge to try all the different activities the beach had to offer, and Maui surfers are quite likely the most diversified group of ocean athletes in the world.  The strong trade winds on Maui encourage alternate ocean sports, like windsurfing and kiteboarding.   And is home to quite possibly the best big wave in the world, Pe'ahi, commonly referred to as Jaws. Read more here.
Waterman's Beneficiaries
The following environmental organizations have been carefully selected as recipients of the proceeds from the 2019 Waterman's fundraising efforts in the form of a SIMA Environmental Fund grant. Learn more about them here.
5 Gyres Institute
Assateague Coastal Trust
Clean Ocean Action
Heal the Bay
North Shore Community Land Trust
Ocean Institute
Orange County Coastkeeper
San Diego Coastkeeper
Santa Barbara Channelkeeper
Save the Waves
Surfers Against Sewage
Surfing Education Association
Surfrider Foundation
Wildcoast
Wishtoyo Foundation