A Walk On Water Announces 5th Annual Montauk Event
The 5th Annual AWOW Montauk Surf Therapy Event will celebrate and honor courageous kids, adults and their families; two beautiful days at the beach with no labels, everyone is an athlete. On Friday, September 6 and Saturday, September 7 A Walk On Water will be coming to the east end for its yearly event at Ditch Plains Beach to help fund their mission's goals with 2 amazing evenings of fundraising. On Friday night, following a fun day at the beach hosting special needs children and their families, The Atlantic Team will be hosting a beautiful cocktail reception and a fun afternoon at the CMEE museum centered around a silent auction for donors. Finally, on Saturday evening, as a wrap to the weekend's surf therapy events, The Montauk Beach House will host the annual fundraising event at the resort, which seconds as the celebration for all athletes, their families, all the AWOW volunteers, and the general public for an exciting live auction.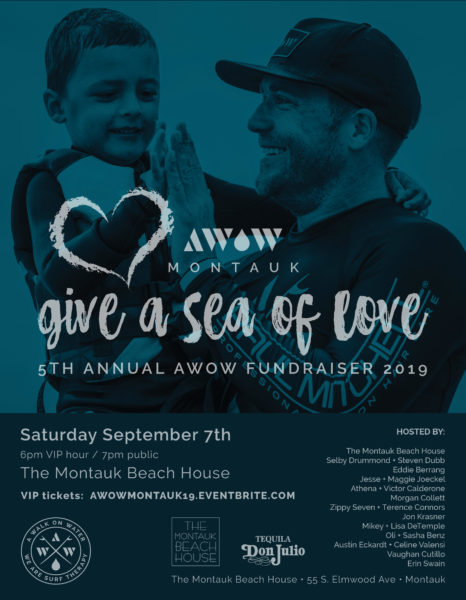 During the afternoons of Friday, September 6 and Saturday, September 7 from 8:00 a.m. to 4:00 p.m. at Ditch Plains Beach , AWOW will be providing its unique brand of Surf Therapy to a broad range of children in need. Athletes will catch waves with trained surf instructors and revel in a life-altering experience, while strengthening family bonds by surfing alongside their siblings. Families will be offered a fun, stress-free day on the beach, including live music, yoga, arts & crafts, prepared lunch and much more.
A Walk On Water is a family of watermen dedicated to sharing the therapeutic effects of surfing with families of children with special needs. This 4th annual event in Montauk is generously presented by John Paul Mitchell Systems and hosted by Adam Sender, founder of Sender Company and Partners , Reginald J. Brown, The Corcoran Group , The Sax Leader Foundation , and The Montauk Beach House . With gracious support from Whalebone Magazine , East Hampton Town , Long Island Communities of Practice , BJ's Wholesale , Left Hand Coffee , Ditch Witch , Happy Bowls , Surf Lodge , Duryea's , Atlantic Terrace , Solé East, Harmless Harvest , and more. A special thank you to Dune Resorts for generously gifting and blocking off a significant amount of discounted rooms for AWOW families.
About A Walk On Water:
A Walk On Water ("AWOW") enables hundreds of children and adults with special needs, along with their families, to experience the thrill of surfing and its therapeutic qualities. The organization works closely with local communities, businesses, and its volunteers and watermen – brought together in service of a shared mission – to help others experience the calming and therapeutic effects of the electrifying, living ocean; and, in the process, showcase the best of surf culture.
Since its launch in August of 2012, AWOW has served over 1,000 families and provided surf therapy to over 2,000 children and adults with special needs and their siblings (our "Athletes"). Its goal is to increase the number of Athletes served by at least 30% every year. The organization wants to reach those most in need, who have never had the chance to experience the joy of surf therapy. To learn more about A Walk On Water, please visit www.awalkonwater.org.