City of Hope Hosts First Philanthropic 'Fashion and Brunch' Event
City of Hope, a world-renowned independent research and treatment center for cancer, diabetes and other life-threatening diseases, is launching the inaugural Fashion and Brunch Women's Leadership Panel on Thursday, September 26, at the Line Hotel in Los Angeles. Hosted by City of Hope's Fashion & Retail Group Council, Fashion and Brunch is a premier women-focused panel bringing together notable apparel and accessory brands, service providers and influencers from the Los Angeles fashion space. The L.A. fashion retail and manufacturing industry is a hotbed of female founders and leaders who have broken down barriers, and City of Hope proudly hosts several of them together for this special panel to discuss their business and staying power. Proceeds from this event will benefit women's cancers research at City of Hope.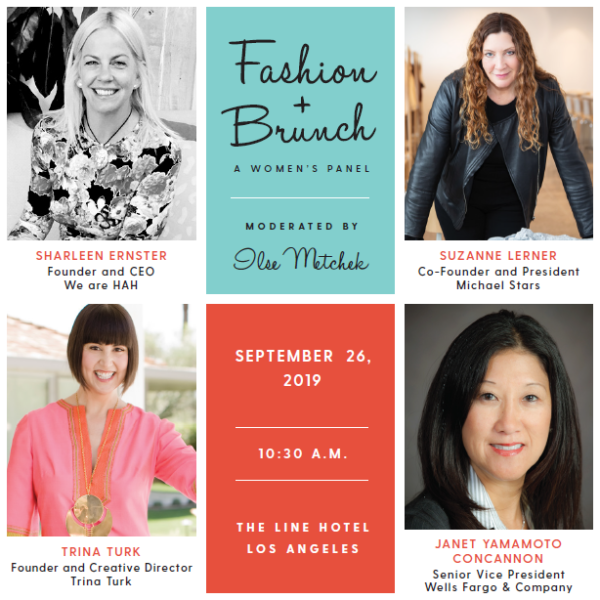 Attendees get to mingle and enjoy light shopping, mimosas and brunch while hearing from an esteemed list of speakers leading conversations surrounding how to continue growing and elevating in fashion once you have already "made it." Panelists include: Sharleen Ernster, founder and CEO of We Are HAH, Suzanne Lerner, co-founder and president of Michael Stars, Trina Turk, founder and creative director of Trina Turk and Janet Yamamoto Concannon, senior vice president at Wells Fargo, and the panel is set to be moderated by fashion industry veteran and President of California Fashion Association, Ilse Metchek.
Though the panel is led by women, the event welcomes all guests and is inclusive of both male and female executives, designers, buyers, influencers and brands.
Tickets are available for $150 and can be purchased at CityofHope.org/fashion-brunch
Participating Brands for Fashion and Brunch 2019 include: Michael Stars, Trina Turk, The Giving Keys, We Are HAH, Rosenthal and Rosenthal, CIT, HUB International, Moss Adams LLP, The TJX Companies, Inc., Wells Fargo and J.P. Morgan.
The Line Hotel is located at 3515 Wilshire Blvd, Los Angeles, CA 90010
For more information on City of Hope's research efforts, visit CityofHope.org/ and follow @cityofhope on Instagram.
About the Fashion & Retail Group (formerly Apparel Industries Group):
City of Hope was founded in 1913 by a small group of working-class men and women from the Los Angeles garment district.  They made it their mission to help people in need of compassionate, innovative medical care.  Today, City of Hope and the Fashion & Retail Group remain focused on that mission.  The current Fashion & Retail Group was created in 1995 with the merger of two of City of Hope's oldest and most dedicated auxiliaries — The Merchants Club and Professions and Finance Associates.  This union brought together leaders from all facets of the apparel industry that are committed to supporting the crucial and lifesaving work done by the doctors and researchers at City of Hope.  With its combined efforts, the Fashion and Retail Group has raised over $43 million for City of Hope.  By joining the two groups' talents and resources, the group continues to build a new and strong foundation of philanthropy.  For more information or to get involved in the Fashion & Retail Group, visit CityofHope.org/fashion.
About City of Hope:
City of Hope is an independent biomedical research and treatment center for cancer, diabetes and other life-threatening diseases. Founded in 1913, City of Hope is a leader in bone marrow transplantation and immunotherapy such as CAR T cell therapy. City of Hope's translational research and personalized treatment protocols advance care throughout the world. Human synthetic insulin and numerous breakthrough cancer drugs are based on technology developed at the institution. A National Cancer Institute-designated comprehensive cancer center and a founding member of the National Comprehensive Cancer Network, City of Hope is the highest ranked cancer hospital in the West, according to U.S. News & World Report's Best Hospitals: Specialty Ranking. Its main campus is located near Los Angeles, with additional locations throughout Southern California. For more information about City of Hope, follow us on Facebook, Twitter, YouTube or Instagram.