ROTH Advises SPY on its Merger with Bollé Brands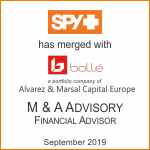 It's a Done Deal
Transaction Information
SPY Inc. ("SPY"), an independent Southern California based optical products company, has merged with Bollé Brands Inc. ("Bollé"), an eyewear portfolio company of Alvarez & Marsal Capital Partners Europe ("AMCE").  The Bollé and AMCE teams believe SPY presents a compelling opportunity to merge with an iconic US brand, which is highly complementary to Bollé's portfolio in terms of brand proposition, channel mix and geographic presence.
ROTH Capital Partners served as exclusive financial advisor to SPY.
Disclosure Law Group ("DLG") served as SPY's corporate and securities counsel. Potomac Law Group served as special counsel to DLG on M&A matters.
Terms of the transaction were not disclosed.
About SPY
Established in 1994, SPY is an independent Southern California-based eyewear company that delivers the best lens experience in styles that fit your life. We take a playful approach to everything we create, which means we've got frames to match every mood or moment, wherever your day takes you—from sunglasses and goggles to prescription styles. Our HD+ lens is the only technology on the market that combines the superior clarity of digitally mastered high definition lenses with the therapeutic and visual performance benefits of our patented Happy Lens. For more information, please visit and www.spyoptic.com. (Source: Company Press Release | 9/9/19)
About Bollé Brands
Bollé delivers the highest quality sunglasses and goggles for performance and protection. At Bollé we are constantly refining our trademark combination of fit, fashion, and comfort, resulting in some of the freshest and most technologically advanced eyewear in the industry. For more information, please visit and www.bolle.com. (Source: Company Press Release | 9/9/19)
About ROTH Capital Partners
ROTH Capital Partners, LLC (ROTH), is a relationship-driven investment bank focused on serving emerging growth companies and their investors. As a full-service investment bank, ROTH provides capital raising, M&A advisory, analytical research, trading, market-making services and corporate access. Headquartered in Newport Beach, CA, ROTH is privately-held and employee owned, and maintains offices throughout the U.S. For more information on ROTH, please visit www.roth.com.
For more information please contact:
Investment Banking
Paul Zaffaroni
Managing Director &
Head of Consumer
Investment Banking
(949) 720-7174
pzaffaroni@roth.com
Gerald L. Mars
Managing Director
(949) 720-7196
gmars@roth.com
Jacob Frank
Director
(949) 720-7135
jfrank@roth.com
Ford Hanour
Associate
(949) 720-7141
fhanour@roth.com
John Simhachalam
Analyst
(949) 720-7101
jsimhachalam@roth.com