RVCA Announces "Now & Then: A Decade Of Beautiful Losers"
RVCA is pleased to announce upcoming gallery exhibition, entitled "NOW & THEN: A DECADE OF BEAUTIFUL LOSERS," will debut in New York City on August 24, 2018 at The Hole Gallery.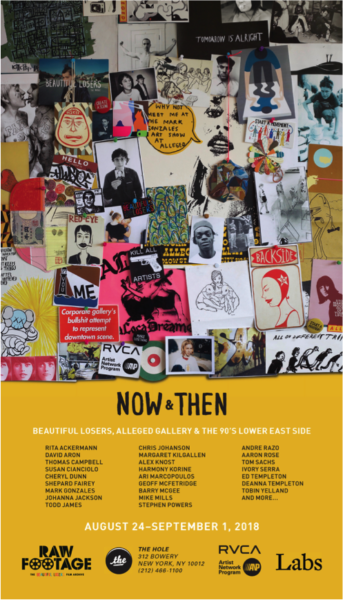 The "NOW & THEN: A DECADE OF BEAUTIFUL LOSERS" exhibition venerates the 10-year anniversary of the 'Beautiful Losers' documentary that made its US premiere on August 8, 2008 at the IFC center in New York. 'Beautiful Losers,' directed by Aaron Rose and Joshua Leonard, captured the characteristic spirit of a community of artists affiliated with the Alleged Gallery in Manhattan in the early 1990's. 'Beautiful Losers' depicted a community of artists including Barry McGee, Ed Templeton, Mike Mills, Thomas Campbell, Jo Jackson, Shepard Fairey, Chris Johanson, and Margaret Kilgallen during the Alleged Gallery era.
In present-day, a community to which these artists belong still exists in the form of the RVCA Artist Network Program. This program encompasses RVCA's ongoing effort to advocate, promote, and lend support to artistic talents who embody the nonconformist spirit found in of street, youth, and skate culture and subvert the traditional art world. As such, RVCA has tapped longtime members of the RVCA Artist Network Program to participate in group exhibition that celebrates the ethos of the 'Beautiful Losers' film, and the era it encapsulated.
DIY / "outsider" art and its acceleration to the cultural forefront will be revisited with the "NOW & THEN: A DECADE OF BEAUTIFUL LOSERS" exhibition. On site will be both artworks and collaborative RVCA merchandise from artists including but not limited to: Aaron Rose, Andre Razo, Ari Marcopoulos, Barry McGee, Cheryl Dunn, Chris Johanson, David Aron, Deanna Templeton, Ed Templeton, Geoff McFetridge, Ivory Serra, Jo Jackson, Margaret Kilgallen, Mark Gonzales, Mike Mills, Rita Ackermann, Shepard Fairey, Stephen Powers, Susan Cianciolo, Thomas Campbell, Tobin Yelland, and Tom Sachs.
In a continuation of the RVCA brand ethos of promotion and development of artistic talent, proceeds from the sale of collaborative merchandise from the gallery exhibition will benefit Redhook Labs, a public-benefit corporation located in Red Hook, Brooklyn and Downtown Los Angeles, which establishes arts education in public schools and community centers.
NOW & THEN: A DECADE OF BEAUTIFUL LOSERS, proudly presented by RVCA, will be on view to the public starting Friday, August 24th through Saturday, September 1st 2018 at The Hole Gallery, located at 312 Bowery, New York, New York, 10012.
The NOW & THEN: A DECADE OF BEAUTIFUL LOSERS collaborative capsule collection will be available on location at the gallery space as well as online at RVCA.COM starting Friday, August 24. Collaboration merchandise will include limited edition products in collaboration with ALLEGED, ED TEMPLETON, GEOFF MCFETRIDGE, TOBIN YELLAND, and more…
The Now and Then show is part of the RVCA NYC Caravan – during the week of August 21 – 27, RVCA will be bringing a number of brand advocates around the city for various events with KCDC, Pilgrim, The Dogpound Gym, Overthrow Boxing and a number of other venues, to celebrate the various pillars of the brand. We will also have a special collection launch with Smith Street Tattoo Parlor and a Women's brunch headlined by musician and RVCA advocate Lily Meola. In the past, Caravan has taken the brand roadshow to places like Australia, Puerto Rico and annually, to Hawaii as part of the RVCALOHA campaign. Please follow the travels of the RVCA advocates and behind the scene footage of the entire week on the RVCA Instagram channel and at RVCA.COM. #RVCABEAUTIFULLOSERS, #RVCACARAVAN, #RVCANYC
ABOUT RVCA:
RVCA is the brainchild of company Founder and President, PM Tenore. Transcending the boundaries of traditional action sports apparel, RVCA is a design-driven lifestyle brand free from passing trends. Appearing as naturally on the shelves of boutiques as on those of a local skate shop, RVCA is brought together by a group of like-minded individuals from various subcultures, a collaboration of sorts, a lifestyle within itself.
PM Tenore's intention from the very beginning has been to create a platform for RVCA, which combines art, music, fashion and a modern lifestyle in an original way. At the forefront of this vision has been RVCA's Artist Network Program (ANP)-a venture established to showcase the talents of accomplished as well as unknown artists who inspire our generation and push the boundaries of creative excellence.
Established to promote the genuine integrity of RVCA's subcultures while simultaneously giving back to the community, RVCA in essence is redefining the way the market views art and fashion as represented through the balance of opposites and how they coexist: water, oil; air, land; destruction, industrialization; art, science; foreign, domestic; order, chaos; past, present. For RVCA, it is about today, tomorrow and life as the big picture. It is about inspiring our generation, providing something of substance and culture and above all doing it with integrity and as a united family, a close-knit community.