Trade Talk in Los Angeles, August 21, 2019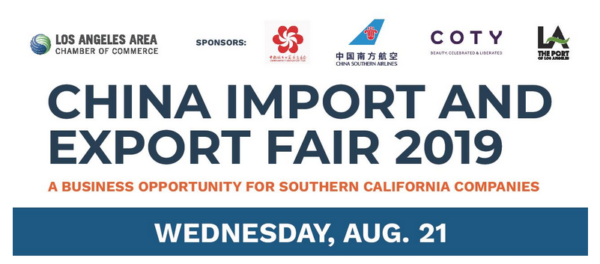 Los Angeles Area Chamber of Commerce
Wednesday August 21, 2019
Time: 9 am – 11 am
3500 S. Bixel St.
Los Angeles, CA 90017
(Complimentary Continental Breakfast & Parking Included)
Effective approaches to product sourcing
Overview of trade developments between Southern California and China
Note: STEP Grant funding available for qualifying exhibiting companies
The Chamber, in partnership with China Foreign Trade Centre (Group), invites you to learn about the many opportunities available to Southern California Business at the 2019 China Import and Export Fair, also known as the Canton Fair, in Guangzhou, China, taking place from Oct. 15 to Nov. 4, 2019.
All businesses are invited; particularly the beauty and cosmetics industry, fashion and design, gifts, etc.
About Canton Fair:
The 126th Canton Fair is China's premier trade event.. It is organized by the China Foreign Trade Centre (Group). The fair will exhibit more than 150,000 categories of products, from China and overseas, with approximately 24,000 enterprises participating.
RSVP now at LAChamber.com/events
For more information about Canton Fair, please contact
PDC Canton Fair Fashion Week US Business Development Manager:
Vlady Cornateanu | vlady_addiction@yahoo.com | 213-622-8401 office
291 S. La Cienega Blvd, Suite 405, Beverly Hills, CA 90211