ROTH Acts as Sole Manager for Reed's Inc.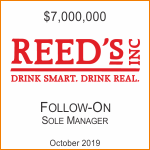 ROTH Capital Partners Acts as Sole Manager for Reed's Inc. in its $7 Million Follow-On
Transaction Information
Reed's Inc. (Nasdaq: REED), owner of the nation's leading portfolio of handcrafted, all-natural beverages, has closed an underwritten public offering of 11,666,667 shares of its common stock. The shares were sold at the public offering price of $0.60 per share resulting in the gross proceeds for Reed's Inc. of approximately $7 million. Reed's intends to use the proceeds from the offering to fund the growth of its business, new products, sales and marketing efforts, working capital, and for general corporate purposes.
Reed's has also granted to the underwriter a 45-day option to purchase up to an additional 1,750,000 shares of common stock to cover overallotments in connection with the offering.
ROTH Capital Partners acted as the sole manager for the offering.
About Reed's Inc.
Established in 1989, Reed's is America's best-selling Ginger Beer brand and has been the leader and innovator in the Ginger Beer category for decades. Virgil's is America's best-selling independent, full line of natural craft sodas. The Reed's Inc. portfolio is sold in over 35,000 retail doors nationwide. Reed's Ginger Beers are unique due to the proprietary process of using fresh ginger root combined with a Jamaican inspired recipe of natural spices and fruit juices. The Company uses this same handcrafted approach in its award-winning Virgil's line of great tasting, bold flavored craft sodas. For more information, please visit and www.drinkreeds.com. (Source: Company Press Release | 10/15/19)
About ROTH Capital Partners
ROTH Capital Partners, LLC (ROTH), is a relationship-driven investment bank focused on serving emerging growth companies and their investors. As a full-service investment bank, ROTH provides capital raising, M&A advisory, analytical research, trading, market-making services and corporate access. Headquartered in Newport Beach, CA, ROTH is privately-held and employee owned, and maintains offices throughout the U.S. For more information on ROTH, please visit www.roth.com.
For more information please contact:
Investment Banking
Paul Zaffaroni
Managing Director &
Head of Consumer
Investment Banking
(949) 720-7174
pzaffaroni@roth.com
Jonathan Alyn
Director
(949) 720-7156
jalyn@roth.com
Equity Capital Markets
Aaron Gurewitz
Head of Equity
Capital Markets
(949) 720-5703
agurewitz@roth.com
Nazan Akdeniz
Senior Vice President
(949) 720-5740
nakdeniz@roth.com
Lou Ellis
Senior Vice President
(949) 720-5739
lellis@roth.com